Oral History - About It!

Not everyone in Northwestern Louisiana who served our country gets recognized, but with the R. W. Norton Art Foundation´s Oral History Project many have a chance to share their experiences. Stories of World War II, whether in Europe, the South Pacific, or on the Home Front deserve to be told and recorded. This oral history project began in 2003 when we realized that the vast majority of the "greatest generation", the men and women who served in and gave witness to World War II, had left no record behind. Believing that archiving these histories is simply the right thing to do, we began interviewing these veterans, recording their memories and providing a personal copy to each of them while keeping a copy at the Norton Art Gallery. Presently, the Oral History project has several hundred of these interviews that have been archived and the number continues to grow.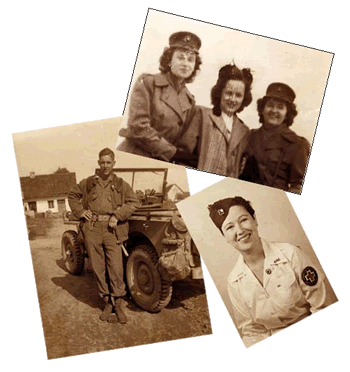 As the Oral History Project expanded, its scope grew to include:
Veterans of WWII
WWII Civilian Defense Employees
Veterans of Subsequent Wars and Conflicts
The Civil Rights Movement
Louisiana Musical Pioneers
Oil and Gas Industry Entrepreneurs
Local Community Leaders
The Oral History Project is dedicated to preserving the stories of the men and women who so positively influenced the world we live in today. It is completely funded by the R. W. Norton Art Foundation. If you would like to share your story, please click here to contact us or call 865-4201 ext. 122.
Our oral histories bring some of the twentieth century's most important events to life. There are number of ways to search the Norton's oral history archives: by topic, by branch of service, by gender, and by a variety of keywords. The search feature also allows you to choose multiple topics; for instance, if searching for someone with a long-term military career, you could check the boxes for World War II, Korea, and Vietnam to find those few valiant souls who proudly served in all three conflicts.
You can also browse our collection of oral histories by simply clicking on the stack of books on the bottom right of the search page. One click, and you'll discover the personal stories of those who have given so much to our local community, whether as veterans, as innovators, as activists, or as entrepreneurs.
The R.W. Norton Art Gallery newsletter spotlights a featured oral history participant each month, including an excerpt and image from his/her story along with an audio clip so that you can hear it in his/her own voice. The project has a multitude of these images and testimonies: click here to view Lee Bowers profile and World War II photographs while listening to him tell of his capture by the Nazis.
Heroes have emerged in peacetime as well as during wars. The leaders and activists of the civil rights movements have had a profound effect here in northwest Louisiana as well as the country at large. The Oral History Project has been privileged to record some of their stories as well, which you can access via the Civil Rights database. One such story is that of Mamie Love Wallace, a local leader in the movement who once met with Dr. Martin Luther King, Jr.
So, with all these wonderful histories available, please take a moment to visit our oral history project, either to share or to learn - or both.